World-class performance doesn't happen by chance. At The Permanente Medical Group (TPMG), it's the result nearly 9,000 exceptional physicians working together across specialties to help 4.1 million Kaiser Permanente Northern California patients live healthier, happier and longer lives.
From excellence in cardiovascular, hypertension, stroke and HIV/AIDS care to cancer prevention and the treatment of sepsis, TPMG is recognized as a gold standard in health care. Not only do we deliver outstanding, leading-edge care, but we've also gained national recognition for our accomplishments.
Taking the Lead in Cardiovascular Care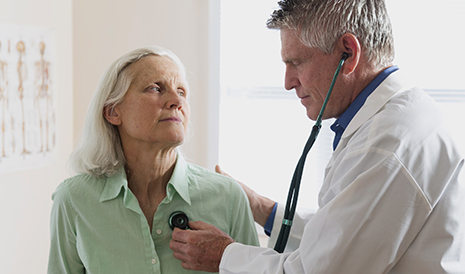 Anyone familiar with our track record for cardiovascular care would turn to Permanente physicians in a heartbeat. Our excellence in prevention, extensive disease registries, and ability to provide sophisticated diagnostic and therapeutic interventions have produced unrivaled performance.
For patients at greatest risk of having a heart attack or stroke, TPMG physicians developed our innovative Preventing Heart Attacks and Strokes Every Day (PHASE) program. Through teamwork, state-of the art technology and the application of evidence-based cardiovascular interventions, PHASE helps these patients stay on track.
PHASE and other cardiac risk reduction programs have enabled us to lower mortality from heart disease to the point where it is no longer the leading cause of death for our patients.
Setting the Bar for Sepsis Care
Each year nearly 750,000 Americans acquire sepsis—a runaway immune response to infection, and the #1 cause of death in U.S. hospitals. Most people develop the condition before seeking help, so rapid diagnosis and treatment are key. But sepsis is unpredictable, its symptoms are generic, and treatment is complex. So just half of patients who develop septic shock—the most severe form—get effective treatment within those first critical hours.
TPMG physicians have been helping to define the national discourse on sepsis care since 2008. In partnership with Kaiser Permanente Northern California, we created the Saving Lives Through Better Sepsis Care initiative. Together we focused on early detection and rapid treatment within the first 6 hours after a patient arrives at the hospital—a strategy that requires comprehensive training; an integrated electronic health record system; and coordinated care among emergency departments, operating rooms and intensive care units.
The program was so effective that it contributed to a 35% decline in the mortality rate for our patients with severe sepsis between 2009 and 2012. Today protocols are in place at every Kaiser Permanente hospital in the United States, and we're sharing these best practices with other hospitals and public health organizations.
"Kaiser Permanente Northern California . . . [has] driven down risk-adjusted mortality from sepsis to 28% below the national average. This solution has astonishing potential. If all hospitals could match Kaiser Permanente's 28% reduction, it would be the annual equivalent, in lives saved, of saving every single man who dies from prostate cancer and every single woman who dies from breast cancer."
The Permanente Medical Group (TPMG) may be the gold standard for cancer, cardiovascular, hypertension and stroke care, but for HIV/AIDS, we're platinum. Our success is the result of three decades of commitment to HIV populations.
The excellence of the care we provide to our HIV patients, from early diagnosis to prompt treatment and outstanding viral control, has resulted in our patients having mortality rates that are half the national average. Thanks to our outstanding physicians, integrated delivery system and effective coordination across specialties, we provide comprehensive care to all patients diagnosed with HIV and have eliminated disparity in clinical outcomes for racial/ethnic minorities.
But the fact remains that HIV is still an epidemic, with more than 1.1 million Americans living with the virus and 56,000 new infections each year. That's why HIV specialists in TPMG joined with their Kaiser Permanente colleagues around the country to issue the HIV Challenge—a public effort to help other health care providers across the nation increase access to care and improve outcomes for people living with HIV.
As part of our commitment to improving the care of all patients with HIV/AIDS, we are sharing our best clinical practices and tools with community health clinics and private health care providers to help them replicate our success.