October 30, 2020
When Fay Gordon, 35, learned she had breast cancer, she was scared but not surprised.
Cancer runs in her family. "My maternal grandmother passed away from breast cancer when she was just 44 years old," said Gordon. "The knowledge of her passing loomed large in my life growing up." Several other family members had received cancer diagnoses over the years, as well.
But it wasn't just her family history of cancer that readied her for the news. Gordon had enrolled in Kaiser Permanente's hereditary cancer program, and the education and support she received had prepared her for the diagnosis. Now she and her care team were ready to address it.
Personalized cancer prevention for people with increased risk
Gordon's ob-gyn had referred her to the hereditary cancer program, which is designed to educate patients about their genetic risks and provide them with long-term cancer prevention plans. Patients receive personalized cancer-screening schedules and information about risk-reducing medical and surgical options. They are connected to a team of specialists, which may include a genetic counselor, a breast surgeon, a gynecologist, and a plastic surgeon, who help coordinate all aspects of their clinical care.
"It requires a unique health care system to support multidisciplinary clinics like these," explained Bethan Powell, MD, gynecologic oncologist for The Permanente Medical Group (TPMG) who helped launch one of the first hereditary cancer centers at Kaiser Permanente in San Francisco. "It doesn't happen in most settings, but with our collaborative culture and support from our leaders, we're able to work together as a team consulting on the same cases and focusing on providing patient-centered care."
Gordon's genetic test revealed that she had a CHEK2 gene mutation, linked to a higher risk of both breast and colon cancer. She met with Veronica Shim, MD, hereditary cancer lead for TPMG at the Kaiser Permanente East Bay service area in Northern California, and her care team designed a personalized prevention plan, which included breast cancer screenings every 6 months with alternating mammograms and MRIs.
For people with a family history of cancer, fear about being diagnosed is quite common. That's why the program also offers patients peer support from volunteers who have had similar experiences and professional mental health care from a therapist or social worker.
"Even though it was scary, I appreciated that I would be under regular monitoring," Gordon explained. "Knowing that there was a plan helped me get a sense of control. And that's ultimately why we were able to catch the breast cancer so early."
"Now it's all about staying healthy"
After Gordon's stage 1 breast cancer diagnosis, she consulted with Dr. Shim, and they decided on a bilateral mastectomy to surgically remove all of her breast tissue. This would remove the cancer and help prevent a recurrence.
"Dr. Shim understood my fears," said Gordon. "She calmed me down and gave me and my husband, David, the facts and details we needed. I trusted her so much and knew she was going to get us through it. I will always be so grateful to her for that."
A week after her surgery, Gordon received word that the procedure had successfully removed all of her cancer. No follow-up chemotherapy would be necessary, and her risk of recurrence was less than 2%. She received reconstructive surgery 6 months later.
"My treatment journey is over, and now it's all about staying healthy," said Gordon.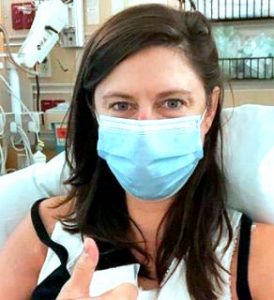 Are you at high risk for breast cancer?
For women with a family history of breast cancer, talking about it can be hard.
"Many patients have unique sensitivities because there have been deaths in the family due to cancer," said Dr. Powell. "Sometimes it's challenging even to talk about the risks because the issues are so intense. However, sharing your family history of cancer with your doctor is one of the most important things you can do."
If you have multiple generations of family members who have had cancer, or if some family members had cancer before they were 50, contact your doctor. Early preventive steps could help save your life.
This story originally appeared in About Kaiser Permanente