June 6, 2022
Celebrating 60 years, the Division of Research continues to harness technology to transform health
Kaiser Permanente was founded in the 1940s by Sidney R. Garfield, MD, and Henry J. Kaiser with a titanic goal: improve the entire health care system. In 1961, that innovative spirit led Garfield to ask Kaiser Permanente physician Morris Collen, MD, to investigate how they might incorporate the brand-new field of computer technology into their efforts.
It took only a few months for Collen to transform that request into the establishment of the Department of Medical Methods Research — later named the Kaiser Permanente Division of Research — launching a robust program of discovery that has played a critical role in guiding Kaiser Permanente's achievements in care delivery over the past 60 years.
Since the first publication by the Division of Research, our research scientists have published more than 5,500 studies in peer-reviewed journals. Our 60 full-time researchers — supported by a staff of more than 600 — continue Collen's vision of integrating computers in health research, likely in ways he never could have imagined.
Today, the Division of Research is known for the wealth of data it can analyze from millions of Kaiser Permanente Northern California members. This data collection began with Kaiser Permanente's automated multiphasic health testing program, when every patient passed through screening stations, tracking data on cards that became part of their medical record. Later, punch cards were put through a large IBM computer, the precursor to today's electronic health record system. Today's electronic data is mined by our investigators to identify the drivers of health and disease and improve care of all kinds. It serves as the fuel for innovative new analytic techniques such as machine learning.
In 2013, when Dr. Collen turned 100, he marveled at what their early work led to:
"Now everybody has a personal health record … the technology has kept advancing. Our first computer took up a whole room. Now your smartphone has got everything that we had on the IBM 1440 … You can go and pull up your Kaiser record! It's fantastic! I can hardly believe it."
And this year, The Permanente Medical Group celebrates the 60th anniversary of the founding of its Division of Research.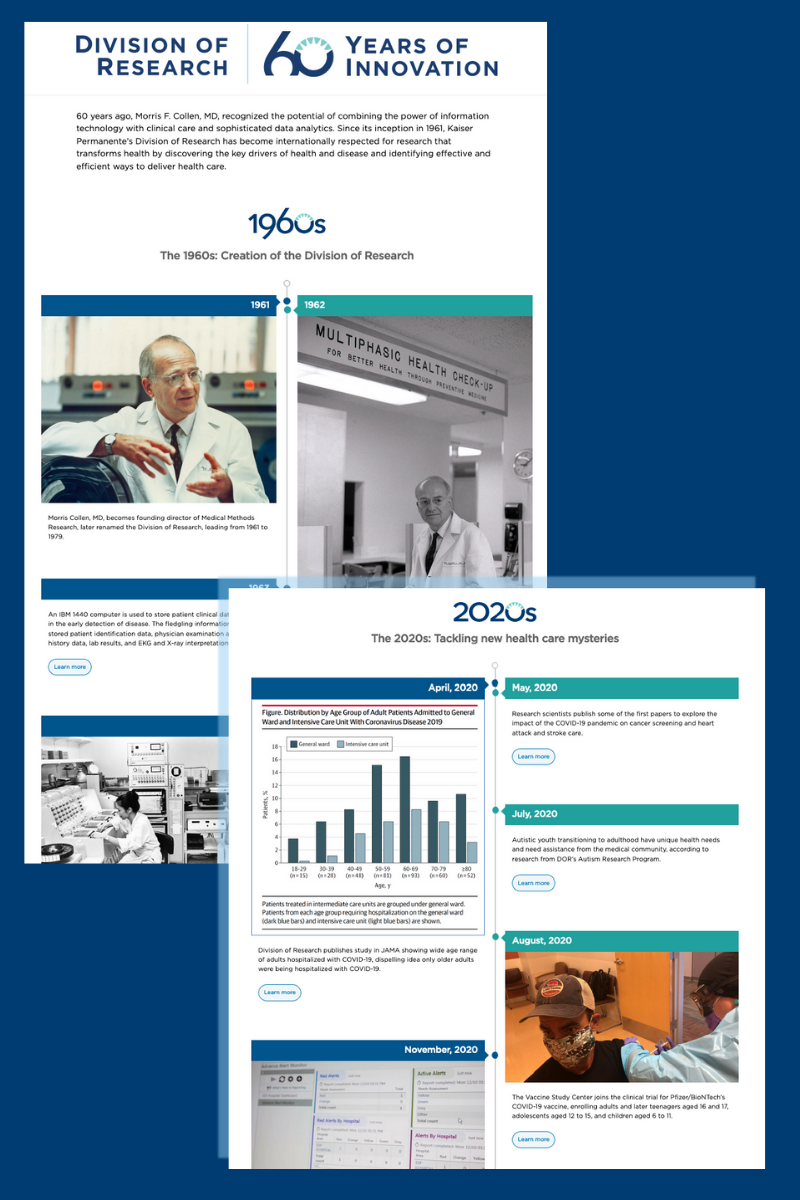 "Today we fulfill Dr. Collen's dream of using electronic data to transform health — and we've innovated on his original vision," said Tracy Lieu, MD, MPH, director of the Division of Research.
"Our internationally respected portfolio in population health, epidemiology, and clinical trials is now joined by exciting work in newer fields like genomics, delivery science, and predictive analytics. Going forward, the imagination of our research teams and physicians will bring us many more decades of great discoveries."
For the remainder of 2022, the Division of Research will mark our achievements over the past 6 decades in many ways. The celebration starts here, with this story and the accompanying timeline that captures research highlights, notable publications, the founding of disease registries and databases, evolving leadership, and more.
As the Division continues through its diamond anniversary, look for more celebratory moments on our websites and social media (Twitter handle: @KPDOR).
We look forward to building on 60 years of experience and expertise in the decades ahead as we address the day's new challenges, such as health equity, the impact of climate change, and reaping the benefits of genetics in health. We, too, have a titanic goal: conduct research that will improve the health of Kaiser Permanente members and the nation.
This article originally appeared in Division of Research Spotlight.