July 6, 2020
When 12-year-old Jacob Knudsen first began feeling pain in his right knee last summer, he and his family thought it was growing pains or a fracture from a recent roller-skating fall, at most.
The Windsor, California, family couldn't have imagined that their baseball-loving oldest son would spend his next school year fighting bone cancer and going through chemotherapy amid a pandemic.
Jacob, who has since turned 13, is now cancer-free and back to practicing hitting baseballs with his dad. Jacob's mother, Isabel Knudsen, attributes Jacob's progress to the fast diagnosis and treatment from his Kaiser Permanente doctors and nurses.
"They gave us strength we didn't know we had," Knudsen said. "The care Jacob received was wonderful."
Quick Diagnosis, Compassionate Care
Last September, Jacob's pediatrician, Vanessa Desousa, DO, ordered X-ray scans and a follow-up CT scan after the swelling and pain in Jacob's knee persisted for over 6 weeks following a roller-skating fall. Within a week, the family got a call from Andrew Fang, MD, an orthopedic surgeon at the Kaiser Permanente South San Francisco Medical Center, who suspected that Jacob had osteosarcoma and ordered a biopsy, which confirmed the diagnosis.
"I thought that maybe, at worst, it was a fracture in my knee, and it turned out to be a lot worse," Jacob said. "I knew I had to be really strong."
On October 4, Jacob started his first 2 rounds of chemotherapy at the Kaiser Permanente Oakland Medical Center under the care of Lisa Goodman, MD, a pediatric hematologist-oncologist.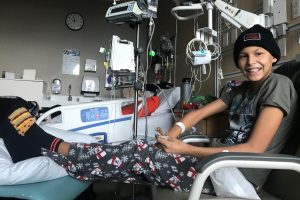 Jacob spent the majority of the next 8 months mostly in and out of the hospital, receiving chemotherapy treatments. He underwent surgery in December to remove his tumor and replace his right knee and most of his femur with a titanium prosthetic.
Jacob said he was terrified, and that the drugs made him feel like a slow baby version of himself.
Throughout his treatment and recovery, Jacob found solace in striking up conversations about sports and life with his doctors, nurses, and other friends he made while at the hospital.
"I could be myself with them," Jacob said. "It was like having a second family. It's just incredible how much support and kindness these doctors and nurses give you."
Dr. Goodman said she was impressed by Jacob's positive, talkative nature and his commitment to recovery. "He did his physical therapy with incredible devotion and recovered faster than any kid I've ever seen," she said.
Isolation and COVID-19
Battling cancer weakens the immune system, so Jacob and his family had to take extra precautions to make sure he didn't catch a cold or the flu. The family became used to increased cleaning and disinfection of anything around Jacob. His contact with the outside world became very limited aside from the occasional trip to the movie theater and visits from his friends and family.
When the pandemic started to unfold in March during Jacob's last few rounds of chemo, his isolation increased as Kaiser Permanente enacted new protocols to keep patients safe.
"We were terrified," Isabel Knudsen said. "Having your child sick with cancer is terrifying. Having to go through that during a pandemic is extra awful."
New visitation guidelines meant that only one family member could visit a cancer patient at a time at Kaiser Permanente facilities. New changes also included implementing a video care first strategy and screening all visitors for COVID-19 symptoms before allowing them into the buildings.
"One of our goals through the pandemic has been to make sure there were no disruptions for our cancer patients," said Brian Missett, MD, an associate executive director for The Permanente Medical Group and a radiation oncologist at the Kaiser Permanente Santa Clara Medical Center. "The restricted visitation understandably frustrated some family members. But we had to enact it to keep everyone safe."
To limit Jacob's potential exposure to the novel virus, only one nurse would come to check on him, and his doctors started to do their check-ins over video.
The extra isolation was difficult, but Jacob said he feels that the pandemic also brought him closer to other people. "For me, it was kind of like everybody was now getting a piece of my life — the isolation and fear that me and other cancer patients go through," he said.
On May 8, Jacob rang a bell during a ceremony at the Kaiser Permanente Oakland Medical Center marking the end of his treatment and his new cancer-free status.
"It's crazy to say that it's done," Jacob said. "I'm just so thankful to have made it."
This story originally appeared in Inside KP